Melinda Seckington Un-Artificial Intelligence
Synopsis
HAL, Skynet, KITT… we've always been intrigued by artificial intelligence, but have you ever stopped to considered the un-artificial?
Most developers are familiar with the basics of AI: how do you make a computer, an algorithm, a system learn something? How do you model real world problems in such a way that an artificial mind can process them? What most don't realize though is that the same principles can be applied to people.
This talk looks at some of the theories behind how machines learn versus how people learn, and maps it to real life examples of how specifically our users learn their way around interfaces and how designers and developers apply learning methodologies in their day-to-day actions.
Biography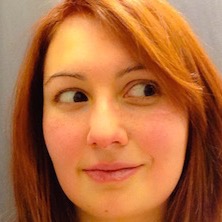 Melinda Seckington is a Ruby developer at FutureLearn, a social learning platform. She loves attending and hacking at Hackdays, BarCamps and other tech meet ups, and since 2009 has been organising them at Geeks of London, including HACKED at the O2 last year. She also is the founder of MissGeeky.com, a blog about all things geeky and girly.